For fishermen
Come and catch your trophy fish.
Private fishing guide available.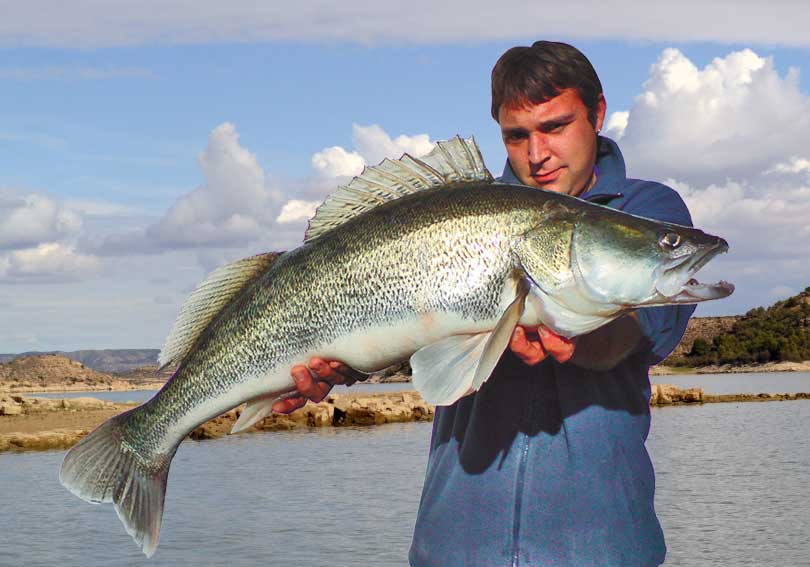 Christopher Pandura
English, Czech, German and Spanish speaking fishing guide.
Peter Pandura's son, a legend of fishing on the Ebro River, came to these waters as a little boy. He inherited the hunting genes from his father, who was an extraordinary fisherman.
His range of services as a fishing guide with 25 years of experience and knowledge of the Mequinenza Dam is quite wide: from fishing for carp and catfish from shore and boat to spinning techniques for zander, perch and blackbass.
Permits
Fishing is possible all year round without restrictions.
We will arrange everything before your arrival based on a copy of your personal ID.
Fish in the Lake Ebro
Catch your giant.
The system of Riba Roja and Mequinenza dams is a renowned hunting ground for carp, zander, perch and especially catfish. Catfish was placed in this area in 1974 and since then it has gained worldwide popularity on the lake Ebro. The purity of the local waters is a fundamental reason for the prevalence of crayfish, which are the main component of the diet of local fish. And because of this fact, the taste and color of the fish meat is absolutely unique and ranks among the world leaders.
The catfish is the largest freshwater fish in Europe. It is best to go fishing for catfish during a dark and muggy night, preferably before the storm. However, a clear and cool night is not ideal for catching this fish, as the catfish is very fearful and scared away by any noise and light. And thanks to the perfect climatic conditions, the fish population in both main reservoirs reaches a unbelievably of 80 million, according to a 2006 Aragon study. The weights of commercially caught pieces are around 80 kg and catches of specimens above 100 kg are reported in many of the cases per year.
For the most part, the pike-perch is inhabited by dams and blind shoulders, where a large population of pike-perch lives, naturally spawning twice a year. During the spawning season (March - April) you can also use artificial baits. Pike perch is the second most widespread fish on the Ebro. In the best season (September - March) it is possible to catch several tens of pieces a day with a length of 50 - 85 cm. In our area was caught a pike-perch with an incredible 100 cm.
Common carp lives almost everywhere in stagnant and flowing waters. It searches mainly for deeper and sandy bottoms, where there is enough food for it. Fantastic catches of carp weighing over 20 kg are possible outside the winter months practically all year round. The maximums are above 30 kg and this is not a downstream form. The local carp are slowly but surely rounding into the classic Central European form.
Although the largemouth bass in this area has not grown to the dimensions known from American competitions, but with a weight of about 3 kg and a length of 60 cm is a duel with him an unforgettable experience. And thanks to year-round protection, its population in the middle dam is really large.
Other fish that you can catch in this area are the abundant perch, roach, mullet and even chub.
| Month | The water temperature | Air temperature | The catfish | The pike-perch | Pike perch caught on a spinning | Pike perch caught on a fish | Largemouth bass |
| --- | --- | --- | --- | --- | --- | --- | --- |
| January | 7 - 10 °C | 6 - 14 °C | 3 | 2 | 1 | 10 | 1 |
| February | 8 - 11 °C | 8 - 15 °C | 3 | 2 | 4 | 10 | 1 |
| March | 9 - 13 °C | 10 - 20 °C | 8 | 6 | 10 | 6 | 2 |
| April | 14 - 20 °C | 23 - 33 °C | 9 | 8 | 9 | 6 | 4 |
| May | 18 - 23 °C | 25 - 35 °C | 8 | 10 | 4 | 4 | 6 |
| June | 20 - 25 °C | 28 - 35 °C | 6 | 10 | 2 | 6 | 8 |
| July | 23 - 28 °C | 30 - 38 °C | 10 | 10 | 2 | 6 | 10 |
| August | 20 - 25 °C | 25 - 30 °C | 10 | 10 | 3 | 10 | 10 |
| September | 20 - 25 °C | 25 - 30 °C | 10 | 10 | 3 | 10 | 10 |
| October | 16 - 19 °C | 18 - 23 °C | 10 | 6 | 6 | 10 | 6 |
| November | 13 - 16 °C | 16 - 19 °C | 6 | 2 | 6 | 10 | 1 |
| December | 10 - 14 °C | 14 - 16 °C | 4 | 2 | 2 | 10 | 1 |
* 0 - weakest activity, 10 - best activity